Page 3 - Boost Your Metabolism (Marie Egyed) : Flip It & Read It
P. 3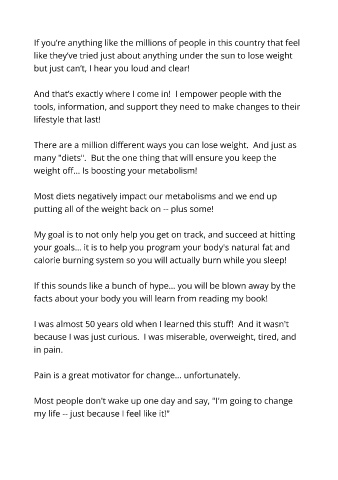 If you're anything like the millions of people in this country that feel
         like they've tried just about anything under the sun to lose weight
         but just can't, I hear you loud and clear!


         And that's exactly where I come in!  I empower people with the
         tools, information, and support they need to make changes to their
         lifestyle that last!


         There are a million diéerent ways you can lose weight.  And just as
         many "diets".  But the one thing that will ensure you keep the
         weight oé... Is boosting your metabolism!


         Most diets negatively impact our metabolisms and we end up
         putting all of the weight back on -- plus some!


         My goal is to not only help you get on track, and succeed at hitting
         your goals… it is to help you program your body's natural fat and
         calorie burning system so you will actually burn while you sleep!


         If this sounds like a bunch of hype... you will be blown away by the
         facts about your body you will learn from reading my book!


         I was almost 50 years old when I learned this stué!  And it wasn't
         because I was just curious.  I was miserable, overweight, tired, and
         in pain.


         Pain is a great motivator for change... unfortunately.


         Most people don't wake up one day and say, "I'm going to change
         my life -- just because I feel like it!"